Gather All the Forces From All Directions to Fight Against Targeted Poverty Alleviation, 2019 Yizhang • Dongyuan "Brand League & Targeted Poverty Alleviation" On-site Promotion Meeting Was Held
2019/09/12
On September 11, 11 "Brand League" members including China Tobacco Hunan Industrial Co., Ltd., Huabao Flavours & Fragrances Co.,Ltd., Better Life Group, Aier Eye Hospital, Hunan University, Talkweb Information System Inc. gathered in Dongyuan Village, a village help point of China Tobacco Hunan Industrial Co., Ltd., to grandly hold the 2019 Yizhang • Dongyuan "Brand League & Targeted Poverty Alleviation" on-site promotion meeting.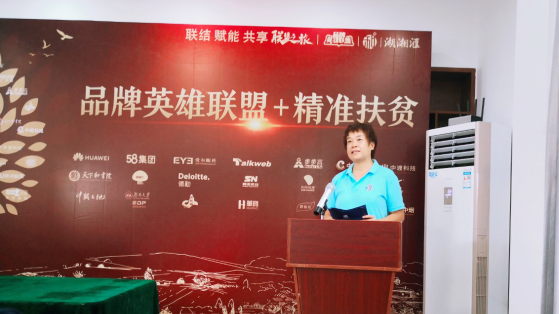 Ms. LU Ping, General Manager of China Tobacco Hunan Industrial Co., Ltd., delivered a speech
"Brand League" is the platform led by China Tobacco Hunan Industrial Co., Ltd. with the purpose of "connecting, empowering, sharing, and serving the people wholeheartedly". To implement the 'three in one' poverty alleviation pattern of General Secretary XI Jinping, "Poverty Alleviation and Development is the common responsibility of the whole Party and the whole society. We need to mobilize the forces of the whole society, and take multiple measures to support each other", The "Brand League +Targeted Poverty Alleviation" led by China Tobacco Hunan Industrial Co., Ltd. will give full play to their respective advantages and guide poverty alleviation with the development concept, promote poverty alleviation with market methods and assist poverty alleviation with social resources.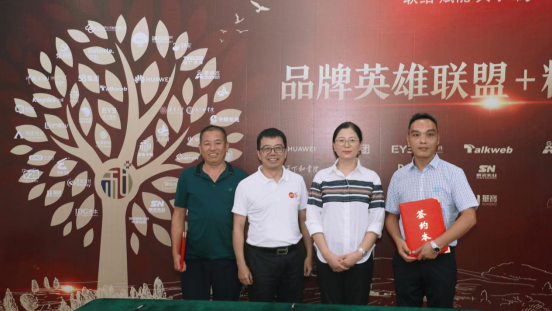 Huabao Flavours & Fragrances Co.,Ltd. held a signing ceremony with Yizhang Mangshan Xianfeng Organic Tea Industries Co., Ltd.
Huabao Flavours & Fragrances actively participated in the poverty alleviation project of Dongyuan Village of China Tobacco Hunan Industrial Co., Ltd. and earnestly practiced corporate social responsibility. In August 2018, the Company sent personnel to inspect povertyalleviation areas several times and found that crops such as tea were the main production of Dongyuan Township, with large planting area and low-performing sales. After the study, it has decided to develop tea deep processing projects based on the characteristics of local tea and the technical advantages of Huabao, to realize the efficient utilization of tea resources, improve the added value of tea, increase farmers' income, and promote the economic development of poverty alleviation areas. Huabao Flavours & Fragrances relied on the advantages of plant extraction and separation technology to extract refined tea extracts and tea essential oil products, aiming to widely use them in tobacco, food, and beverages. In 2018, we purchased 360kg teas from poverty alleviation areas, and we will purchase tea from poverty alleviation areas in bulk in 2019.
At the promotion meeting, delegates visited the poverty alleviation achievements in the previous infrastructure construction, sharing homestay, shared farms, tea planting, Internet teaching, etc., as well as poverty alleviation achievements exhibition, and held a signing ceremony for poverty alleviation projects. Huabao Flavours & Fragrances displayed the its research results and a series of application products on the spot, and signed a tea procurement contract at the poverty alleviation site.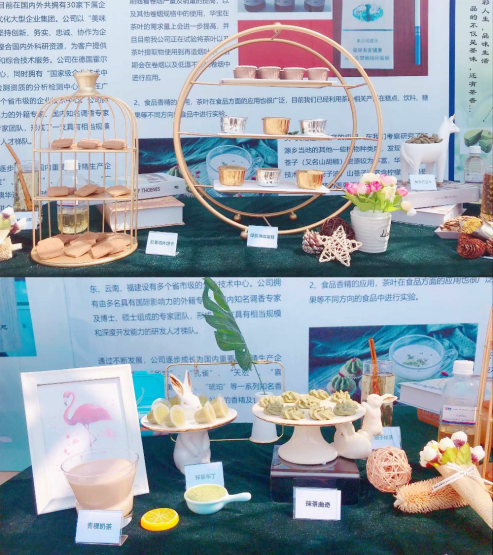 As a "responsible corporate citizen", Huabao Flavours & Fragrances has not only made a qualitative leap in delicious life but also made continuous efforts to fulfill corporate social responsibility and actively contribute to society. In the future, the Company will continue to look for high-quality cooperation resources and opportunities, tap the potential of multi-party cooperation, continue to promote industrial innovation, build a bridge between natural agricultural products and food industry; and gather many loving friends to discuss and practice the commitment of society, so as to not only carry forward the brand spirit, but also shoulder more social responsibilities and enrich people's lives. We will take great responsibility, walk the road, contribute to society with practical actions, become an excellent corporate citizen, and let the light of love illuminate every corner that needs help.