Huabao's Action, Pass on Love Huabao Holds Love Schoolbag Donation Ceremony
2017/07/12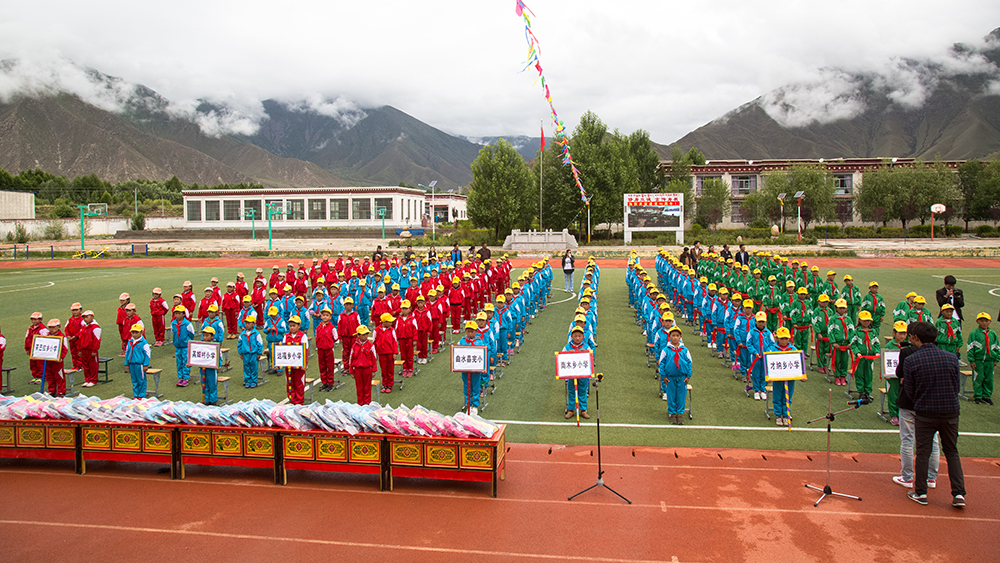 Love Schoolbag donation ceremony at Daga Elementary School in Qushui County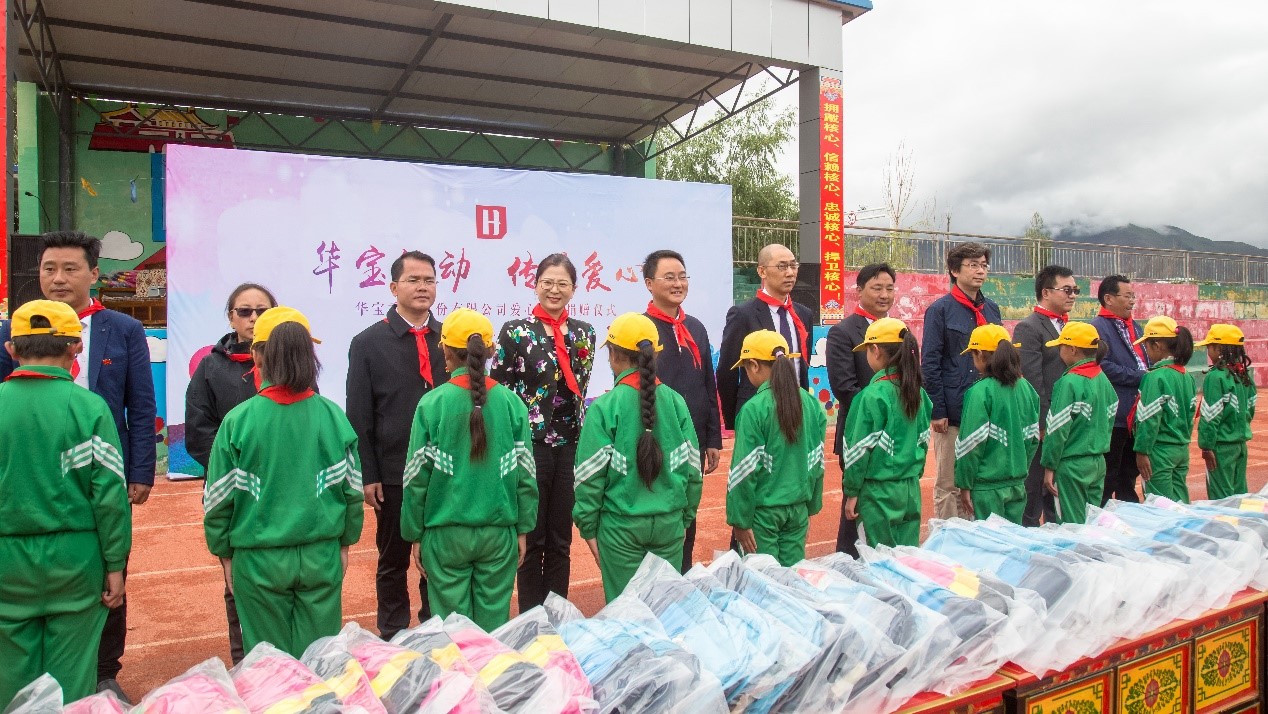 Love Schoolbag Donation Ceremony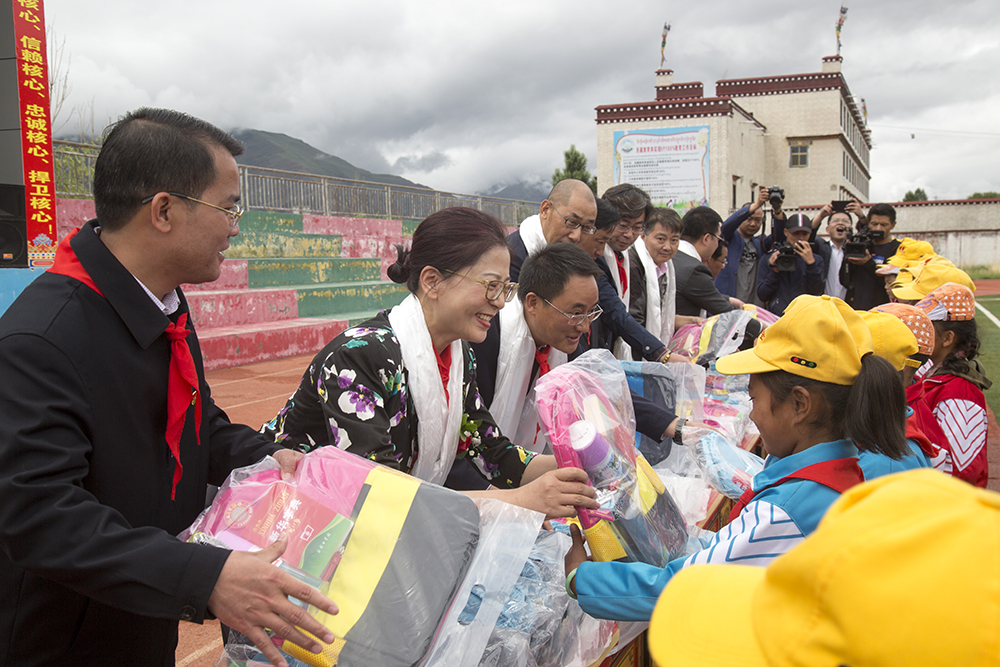 Guests gave schoolbags to students
Education Bureau of Qushui County presented a silk banner to Huabao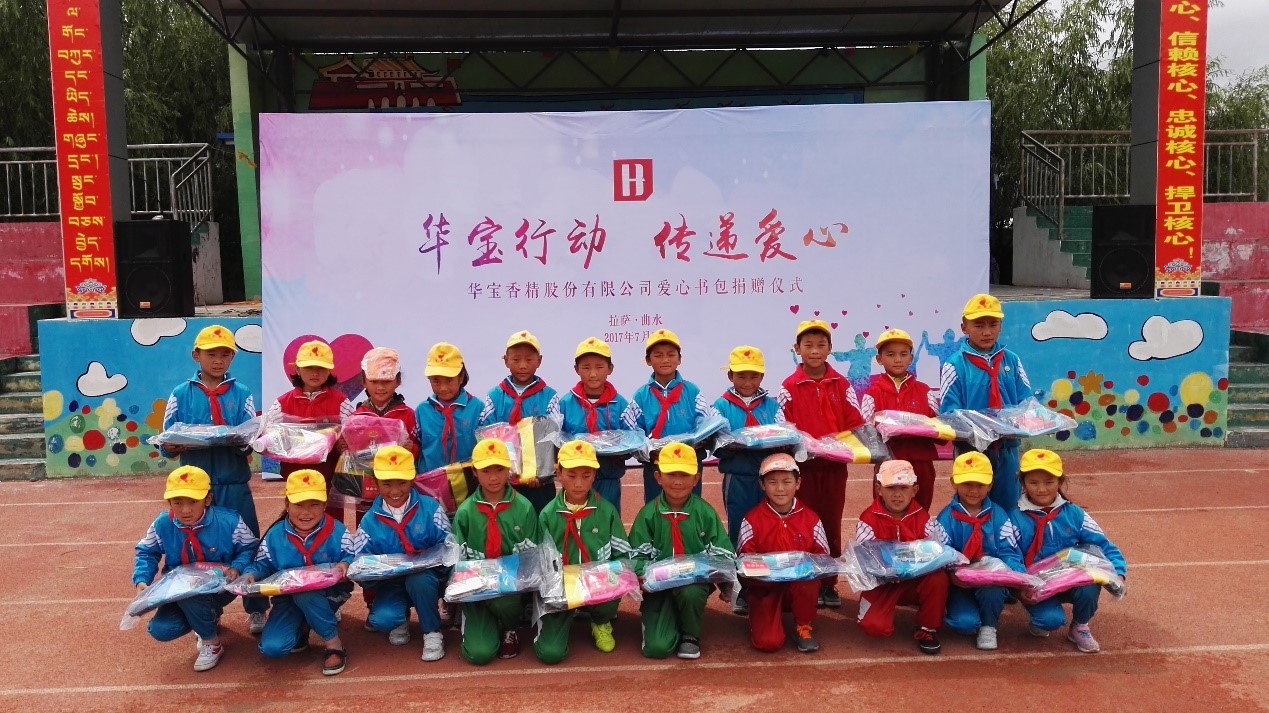 Group picture of students getting donations
The schoolbag donation ceremony of Huabao Flavours & Fragrances Co., Ltd. themed by "Huabao's Action, Pass on Love" was grandly held on the playground of Daga Elementary School in Qushui County, Tibet at 12 a.m. on July 11. In the donation ceremony there gathered leaders from the autonomous region, Lhasa city and Qushui County, Mr. XIA Liqun(Chairman of Huabao Flavours & Fragrances Co., Ltd.), President Mrs. YUAN Xiaoqin, Mr. CHEN Cong(Vice President, Board Secretary and CFO of the company), staff representatives of Huabao, media journalists and some teacher and student representatives from elementary schools in Qushui County.
Tibet is a region that lags behind in economy and education. It is also a key region of the national targeted poverty alleviation project, therefore, it needs more support from enterprises that are full of love and social responsibility. As a large enterprise based in the Tibet Autonomous Region, Huabao actively made investments in Qushui County of Lhasa and supported the development of local economy. Meanwhile, Huabao also assumed its social duty, taking out hundreds of thousands Yuan to purchase schoolbags and stationery in order to improve the studying conditions of elementary students in Qushui County. In this way, it helped the youth and kids in the county to be healthy, grow happily. It also motivated them to study hard, be grateful to the social charity undertaking, and be determined to serve the country. Meanwhile, the donation activity is helpful for the enterprises to take social responsibility actively, closely combine the enterprise development to social civilization, therefore making the enterprises never forget where one's happiness comes from and remember to repay the society while developing.
The student representative from Daga Elementary School made a speech, saying that the students would cherish the care and the gifts from Huabao, and they would turn these love and care into a driving force to make themselves stronger and aspire to success, thus repaying the country and the society.