The Trade Union Federation of Shanghai Industrial Park of Huabao Flavours and Fragrances Organized and Carried out the "Public CPR+AED First Aid" Training
2021/04/08
On the afternoon of April 8, the Trade Union Federation of Shanghai Industrial Park of Huabao Flavours and Fragrances Co., Ltd. ("Huabao"or the "Company") organized and carried out the "Public CPR+AED First Aid" training activity at the Company's Beijing-Shanghai Hall. About 30 employees registered for and participated in this training activity.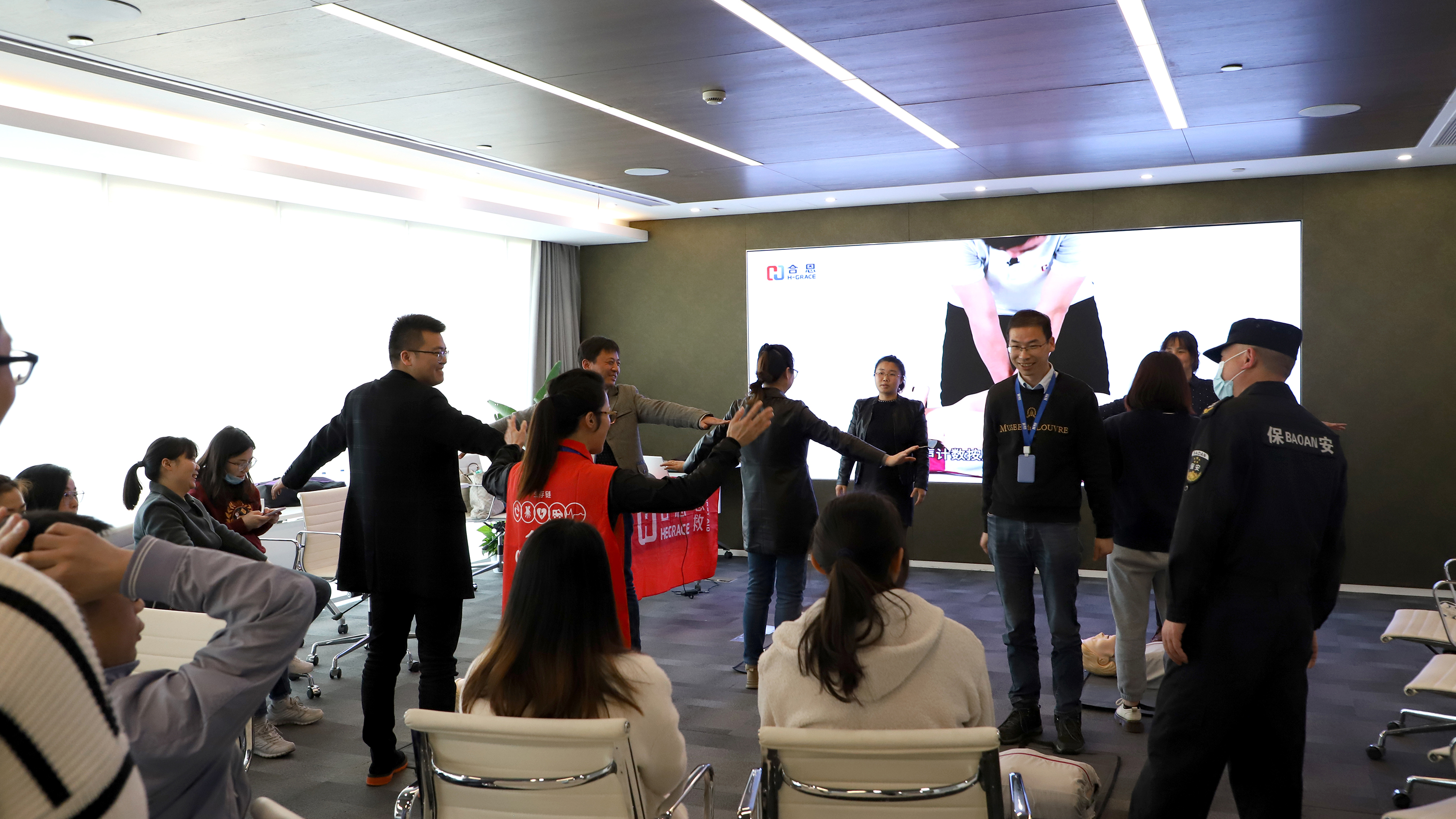 In order to further improve the employees' emergency response, self and mutual medical aid abilities, enhance the employees' safety awareness and protect their life safety, the Trade Union Federation actively sought for training resources from the superior federation of trade unions, and invited professional teachers from HEGRACE to carry out Public CPR+AED First Aid Training in the Company.
CPR, namely Cardiopulmonary Resuscitation, is a life-saving technique for cardiac and respiratory arrest, in order to restore the patient's voluntary breathing and voluntary circulation.
AED, namely Automated External Defibrillator (also called automatic external defibrillator, automated defibrillator, automatic defibrillator, cardiac defibrillator and dummy defibrillator), is a portable medical device which can diagnose certain arrhythmias and administer electric defibrillation. It is a medical device that can be used by non-professionals to resuscitate patients in cardiac arrest.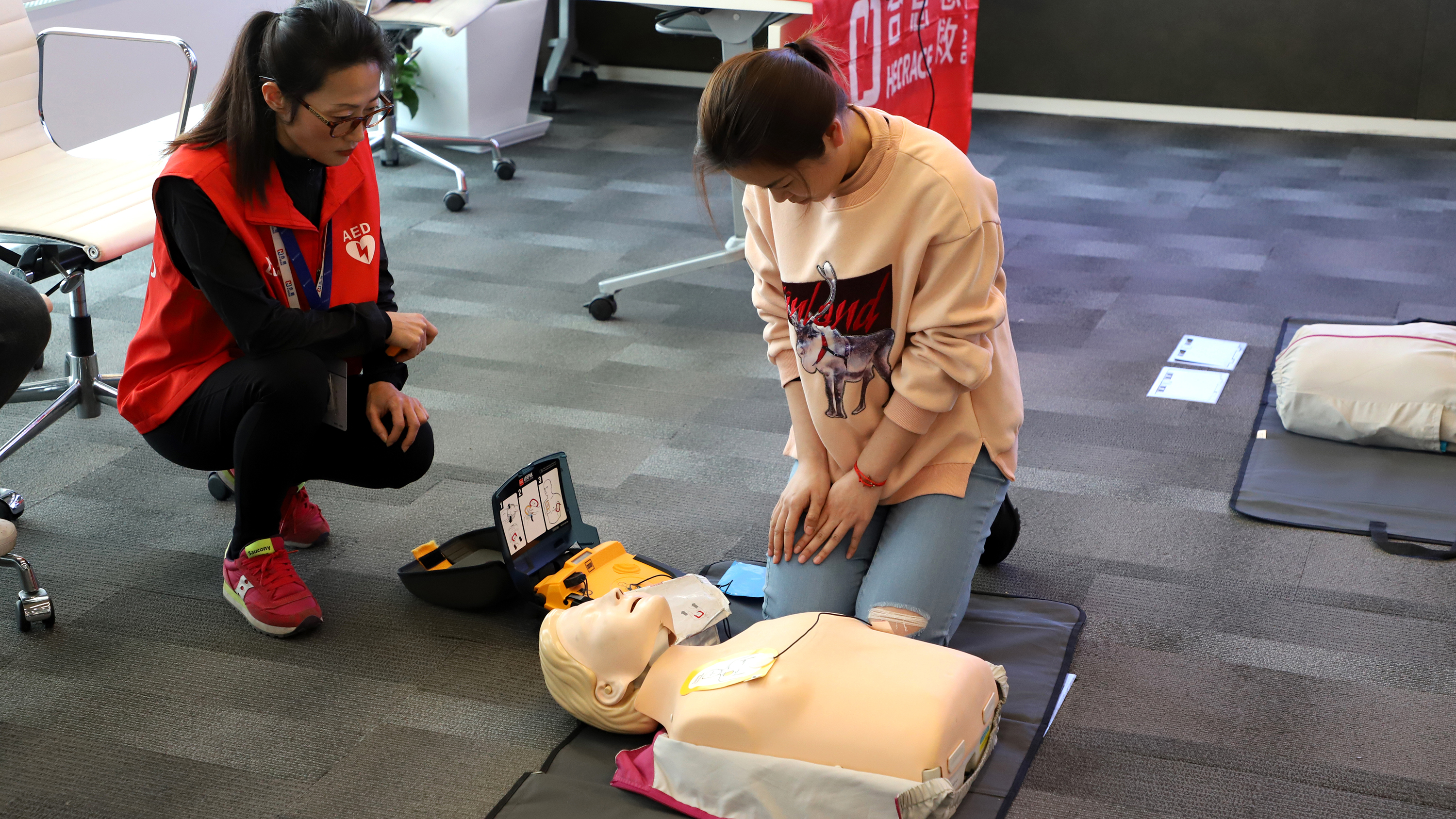 In the training process, the training instructor focused mainly on on-site practical operation, and combined it with theoretical knowledge explanation. The whole process proceeded in the vivacious form and relaxed atmosphere, with vivid contents and frequent interactions. The trainees carried out practical exercise in pairs under the guidance of the instructor, got a practical understanding of the first aid steps and matters needing attention under emergency circumstances, and personally experienced the position, frequency and strength for the chest compression. Meanwhile, under the guidance of the instructor, the trainees also closely watched and practiced the use method and operation process of AED. Finally, a complete first aid process was demonstrated through an emergency scenario simulation drill to deepen the trainees' impression of the knowledge and operation learned in this training activity. The trainees said the training was very practical and they had learned a lot.
Huabao has always been committed to concerning humanistic care and life health of the employees. We pay attention to employees' physical and mental health, and carry out various psychological stress relief training classes from time to time. We pay attention to employees' spare-time sports and recreational life, and conduct various sports and recreational activities from time to time to bring them physical and mental pleasure. We also pay attention to employees' physical health and life safety. In addition to the annual physical examination, we also hope to make our employees understand and master some self and mutual medical aid skills through "CPR+AED First Aid" training and fire- fighting training activities. We hope that every employee can have a healthy body and mind, master some basic first aid skills, work contentedly and enjoy a happy life.