Mr. LEI Wenlong, Chairman of Jiading Industrial Zone Development Group Company, and His Delegation Visited Huabao Shanghai Industrial Park for Investigation
2022/06/17
On the morning of June 16, LEI Wenlong, Deputy Secretary of CPC Working Committee, Deputy Director of Management Committee, and Party Secretary& Chairman of the Group Company of Shanghai Jiading Industrial Zone, and his delegation visited Huabao Shanghai Industrial Park to investigate epidemic prevention & control and resumption of work. Ms. YUAN Xiaoqin, director and president of Huabao, and Mr. ZHAO Dexu, vice president of Huabao International and other company leaders warmly received LEI and his delegation.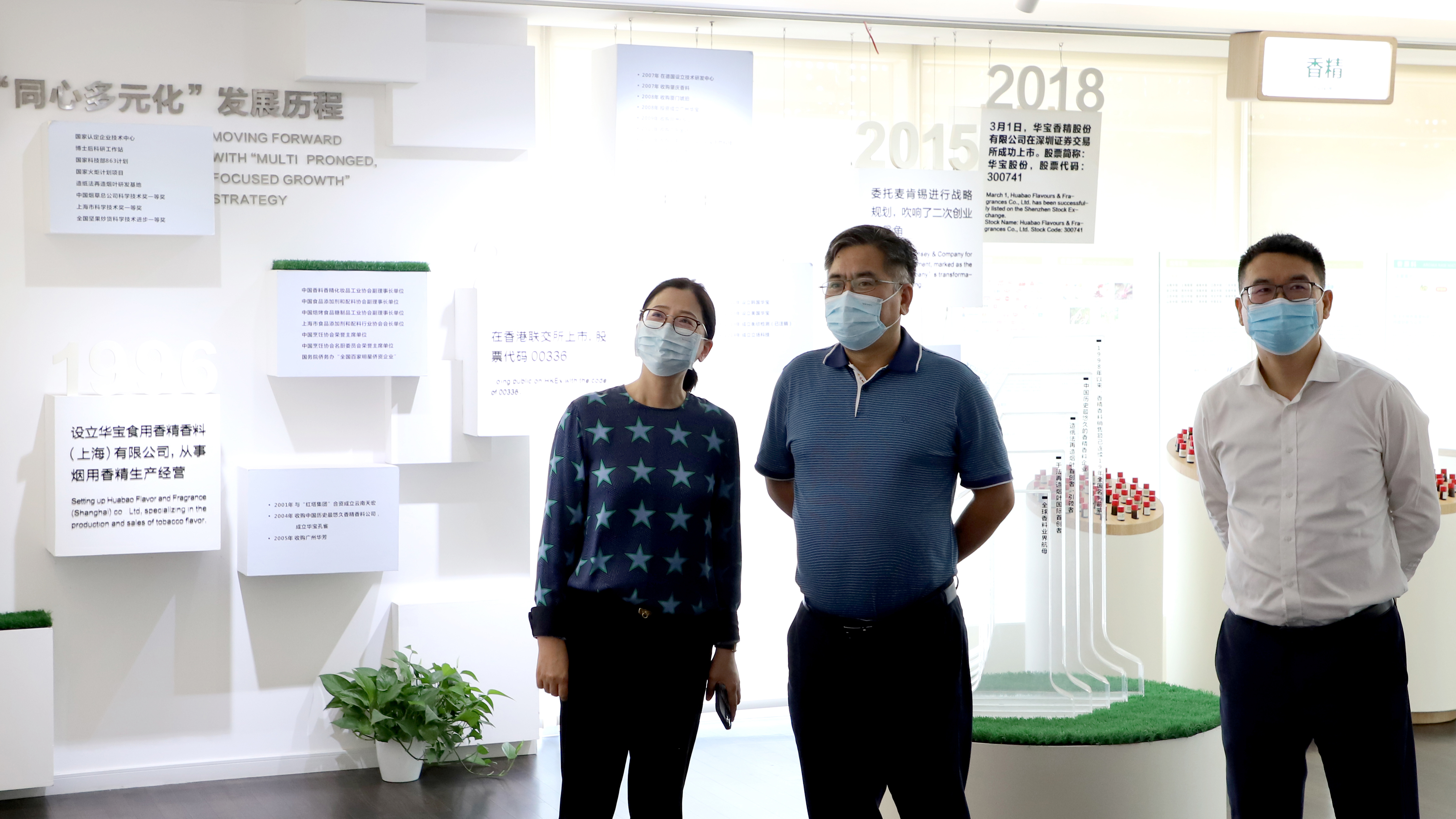 Before entering the park, LEI and his delegation followed the company's epidemic prevention requirements to take the antigen test on site, scan the place QR code, provide 72-hour negative nucleic acid report, and take the temperature. After finishing all the procedures, they then entered the industrial park.
LEI praised our strict and standardized epidemic prevention as soon as he entered the park. Then, he and his delegation visited the company's exhibition hall and learned the company's development under the accompany of YUAN and other leaders of Huabao.
Thereafter, a symposium was held, where LEI had a detailed understanding of the company's resumption of work and business operation under the epidemic situation. Ms. YUAN, on behalf of the company, first expressed her sincere gratitude to Jiading District, especially the leaders of the party and government at all levels of Jiading Industrial Zone and the leaders of the Group Company for their care and support to the development of Huabao. Especially in this special period, they came to visit Huabao in the midst of pressing affairs, which not only moved us so much, but also gave us confidence. Later, the company's relevant responsible person introduced the company's situation to LEI and made a special report on the transformation and upgrading project of Huabao Shanghai Industrial Park. After learning that Huabao has not only strictly implemented the epidemic prevention measures, but also fully resumed work and proceeded the key work of enterprise operation in a tense and orderly way, LEI rained praises on us. LEI said that he had witnessed the increasing development and growth of Huabao since it was founded in Jiading in 1996 and then moved to Lhasa of Tibet in 2016 in response to the call of the state to support Tibet's development. LEI also inquired about the construction and operation of the company's state-certified enterprise technology center and post-doctoral research workstation. He said, "Jiading is not only a highland of innovation and entrepreneurship, but also a highland of talent. As one of the five new districts in Shanghai, Jiading District, especially the Jiading Industrial Zone, enjoys excellent talent introduction policies and development opportunities. We really hope that excellent enterprises like Huabao will locate their core technology platforms in Shanghai and Jiading, which will facilitate enterprises to connect with and embrace the world, thus to achieve better development. Meanwhile, we also hope that enterprises can withstand the current pressure, face the difficulty and continue to make achievements. Jiading Industrial Zone and the Group Corporation will continue to serve enterprises well and support them to become bigger and stronger."