Good News| Jiangxi H&K Was Awarded the "May 1st Labor Medal of Jiangxi Province"
2022/05/01
On April 29, 2022, the Federation of Trade Unions of Yingtan City held a conference to celebrate the "International Labor day" in 2022 and present the "May 1st Labor Medal" and "Pioneer Worker Prize". Jiangxi H&K was awarded the "May 1st Labor Medal of Jiangxi Province".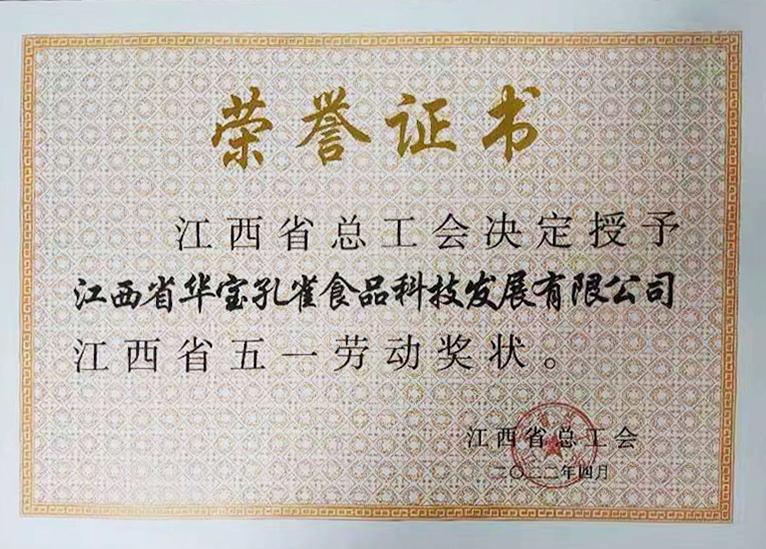 Located in Longgang Industrial Park, Yingtan High-tech Industrial Development Zone of Jiangxi Province, Jiangxi H&K is a high-standard and professional food flavors and ingredients manufacturing factory.
With strong technical strength and rich product categories, the Company always adheres to the mission of promoting the development of food flavor industry and flavoring your life, and perseveres in the service concept of customer first, thus to provide customers with all-round personalized services, including product solutions, cost optimization solutions, market forecast sharing, sales promotion strategies and more. The Company always pursues natural, safe, healthy, and delicious products, and combines personalized R&D ideas to innovate products. Its products are widely used in beverage, cold drink, ice cream, candy, dairy products, meat products, instant food, condiments, jelly, roasted snacks, biscuits, and other food fields.
The Company has consecutively won the titles of "Top Ten Employers of Yingtan" in 2018, "May 1st Labor Medal of Yingtan City" in 2019, High and New Technology Enterprise of Jiangxi Province, "Leading Small and Medium Enterprise Specialize in Niche Sectors of Jiangxi Province", and Food Flavors & Ingredients Technology Innovation Center of Yingtan City.
Jiangxi H&K won the "May 1st Labor Medal of Jiangxi Province", which fully demonstrated the affirmation of the Party Committee and the People's Government of Yingtan City to the development achievements of Jiangxi H&K, and was also a commendation and encouragement for the hard work of all Huabao staff. Jiangxi H&K will continue to contribute to the economic and social development of Yingtan City, vigorously carry forward spirit of utter devotion, actively create a strong cultural atmosphere of respect for labor and workers throughout the Company, and constantly encourage all staff to work hard in the new era, thus to greet the successful opening of the "20th CPC National Congress" with more outstanding achievements.