Huabao has entered the "countdown" stage to realize comprehensive digitalization of industry development in Jiangxi — Launch of preparation for Huabao SAP ERP Phase II
2022/07/27
Based on the successful experience of SAP ERP Phase I Project implementation, SAP ERP Phase II Project has been officially launched since April 2022. Relying on SAP's excellent business practice and EY team's professional implementation experience, we have successfully completed the UAT acceptance test in Jiangxi Yingtan Integration Test Base, and officially entered the "countdown" stage of preparation for Huabao SAP ERP Phase II.
In recent years, Huabao Flavours & Fragrances Co.,Ltd. ("Huabao" or the "Company") has attached great importance to the role of digital transformation in the Company's strategic upgrading, continued to consolidate the overall architecture of the integrated digital management platform, and made every effort to promote the implementation of digital construction projects in each business segment. The smooth implementation of SAP ERP Phase II will further deepen the integration of the company's business and finance, as well as the deep integration of the upstream and downstream of the industrial chain, so as to comprehensively improve the Company's operational efficiency, analytical ability and differentiation management and control ability for "endogenous growth" and "epitaxial development". The implementation scope of SAP ERP Phase II Project covers 17 companies, including Yingtan Huabao Flavours & Fragrances Co., Ltd., Jiangxi Yifang Rural Technology Co., Ltd., Guangzhou Hua Fang Tobacco Flavors Ltd. and F&G Botswana (Pty) Ltd., etc. The successful completion of the UAT acceptance test phase has not only strengthened the construction efficiency of Huabao digital platform, but also marked that the Company has entered the "countdown" stage to realize comprehensive digitalization of industry development in Jiangxi.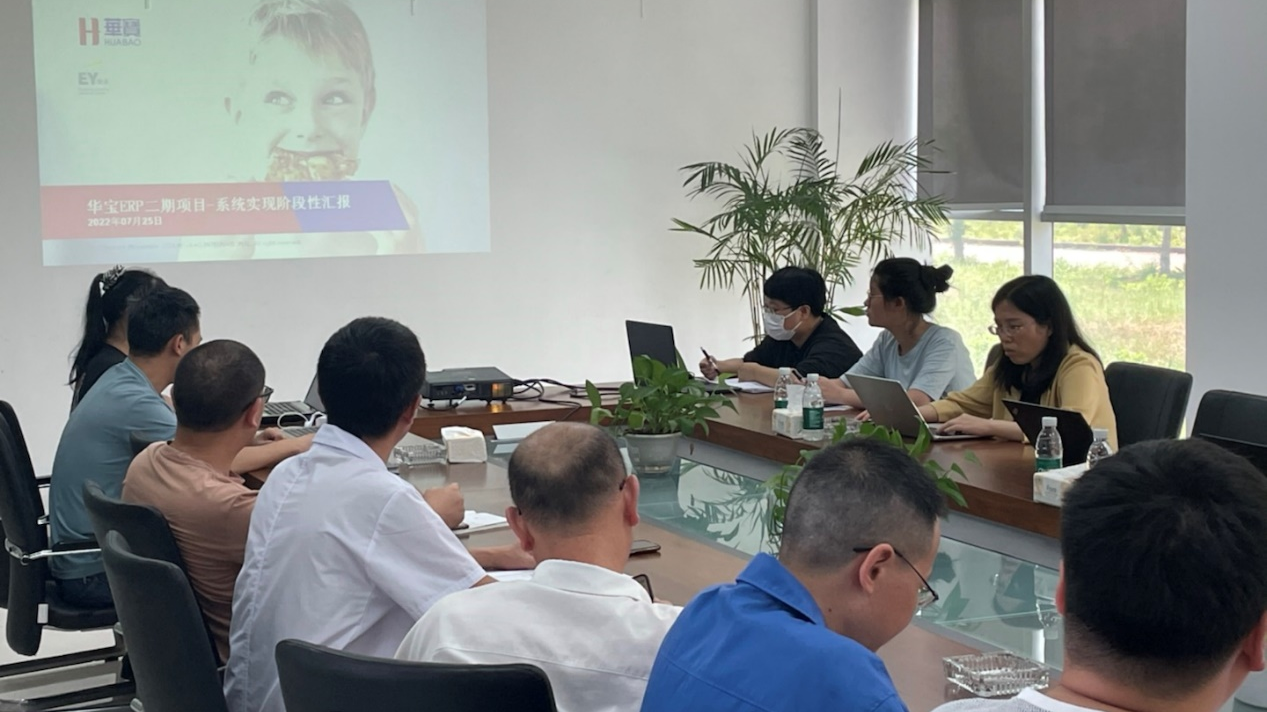 Over the ten years since its settlement in Jiangxi in 2011, Huabao has adhered to the principal industry, strived to develop the real economy, and at the same time relied on the power of capital and senior teams to actively promote the flow of projects, technologies and talents to the old revolutionary base areas through project investment, industrial assistance, "revolution-themed red talent recruitment" and other forms, thus facilitating local economic development. As at December 31, 2021, Huabao has accumulatively made tax contributions of nearly RMB 3 billion in Jiangxi Yingtan alone, ranking top 3 among enterprises in Yingtan and top 1 among private enterprises.
In January 2022, SAP ERP Phase I Project was successfully launched in 21 companies including Jiangxi H&K Food Technology Development Co., Ltd. Facing the adverse factors of the epidemic resurgence in many places in China, Huabao selected to settle the SAP ERP Phase II test base in Yingtan, Jiangxi, and at the same time redeployed professionals to Yingtan to actively promote the comprehensive digitization of industry development in Jiangxi and cultivate more than 40 professionals who excel in both digitalization and business. After years of development, the enterprises under Huabao in Jiangxi Province have grown into high and new technology enterprise of Jiangxi Province, Top 100 private manufacturing enterprises in Jiangxi Province, and Top 10 industrial enterprises in Yingtan. Jiangxi has become the first choice for the industry development of Huabao.
SAP ERP Phase II Project will be officially launched in September this year. While fully promoting the comprehensive digital construction of industry development in Jiangxi, Huabao will adhere to the enterprise mission of "Green, Nutritious and Healthy", actively grasp the new opportunities of Jiangxi's deepening reform and opening-up development, continue to build industrial cluster advantages in Jiangxi, and contribute to local economic development.
Facing opportunities and challenges in the era of digital economy, Huabao will take "management digitalization" as one of the important strategic measures of the Company's multi-wheel drive. By building a unified digital platform for the whole industrial chain, Huabao will realize integrated replicable management, penetrable visual risk management and control, and multi-industry collaborative integration, so as to consolidate the foundation of digital transformation, accelerate the pace of digital transformation, strengthen the efficiency of digital transformation, and support the global operation and industrial ecological construction of Huabao, drives the realization of the enterprise vision of "Flavor Your Life" with digitalization, and bring Huabao products to everyone.