Huabao's Donation to Facilitate Rural Revitalization in Guoke Village Huabao Donated Oxygenerators to Guoke Village, Gulu Town, Naqu City, Tibet
2022/08/19
Recently, the ceremony of Huabao's donation of oxygenerators to Guoke Village, Gulu Town, Naqu City, Tibet was held at the location of Guoke Village Committee. ZHOU Zhongxin, assistant to general manager of Lhasa Huabao Food Co., Ltd. ("Lhasa Huabao"), attended the donation ceremony on behalf of the company. Guoke Village Committee presented a banner printed with the words "Huabao's Donation to Facilitate the Rural Revitalization in Guoke Village" to Huabao Flavours & Fragrances Co.,Ltd. ("Huabao"), in order to deliver their respect and gratitude to Huabao for its assistance and donation.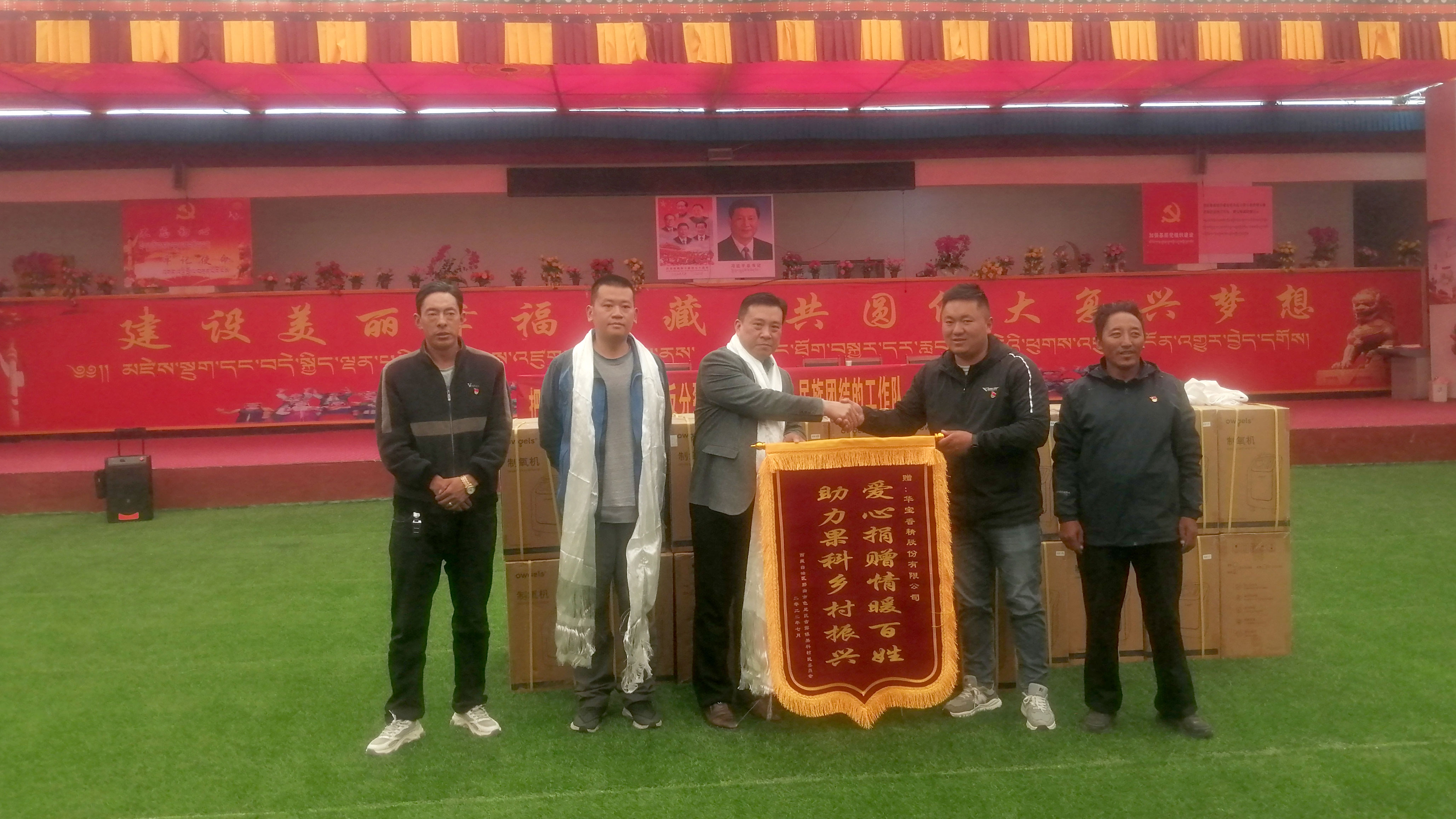 With an average altitude of more than 4,600 meters, Gulu Town in Nagqu has a plateau subfrigid semi-arid monsoon climate, featuring low temperature, thin air, dry and clean atmosphere, strong solar radiation and large temperature difference between day and night. The town has a permanent population of less than 5,000 mainly relying on animal husbandry. Due to the high altitude, highly cold climate and oxygen deficit, life and work is extremely difficult here.
This time, under the leadership of the Party Committee of Tibetan Office of China Securities Regulatory Commission and the coordination of Tibetan Office of China Securities Regulatory Commission and the working party of the Reform Office of the Party Committee of Tibetan Autonomous Region in Guoke Village, Huabao donated an oxygenerator to each of 73 households in Guoke Village, Gulu Town, with a total value of RMB 182,500. This move can effectively improve the villagers' quality of life and greatly enhance the happiness of the people brought by rural revitalization.
As a listed company in Tibet, Huabao has always closely integrated the development of the company with the social development and improvement of people's livelihood in Tibet. Huabao has been actively engaged in a range of affairs from poverty alleviation to rural revitalization, from work in the high-altitude Nagqu to the border town of Yadong, from visiting the front line for investigation and research to donating money and goods and offering advice and suggestions. We hope to bring benefits to the people through practical actions, and enhance their satisfaction and happiness. In the future, under the guidance of Party and government departments at all levels in Tibet, Huabao will continue to participate in the rural revitalization and build a beautiful Tibet jointly.