The Trade Union Federation of Huabao Shanghai Industrial Park Carried out Training Activity on "Common Accident and Emergency Handling Course"
2022/09/16
On the afternoon of September 9, the Trade Union Federation of Huabao Shanghai Industrial Park carried out training activity on "Common Accident and Emergency Handling Course" at the Beijing-Shanghai Hall of Huabao Shanghai Industrial Park. Jiading Industrial Zone Federation of Trade Unions conducted unified purchase of this training service and delivered the same to the membership enterprises that applied for this service for free.
Professional trainers from H-Grace First Aid presented vivid and effective first aid training to our staff at Huabao Shanghai Industrial Park. The main contents of the training included first aid regulations and the importance of first aid, basic knowledge of first aid, internal medical emergency, trauma emergency, and environment-related emergency. During the training activity, the trainers used a large number of real cases, videos and photos, and combined theory with practice to explain patiently and guide everyone to correctly use the common first aid methods including how to use the Heimlich Maneuver and how to stop bleeding and dress the wound. The staff took an active part in the case demonstration, and conducted practical operation according to the trainers' explanation.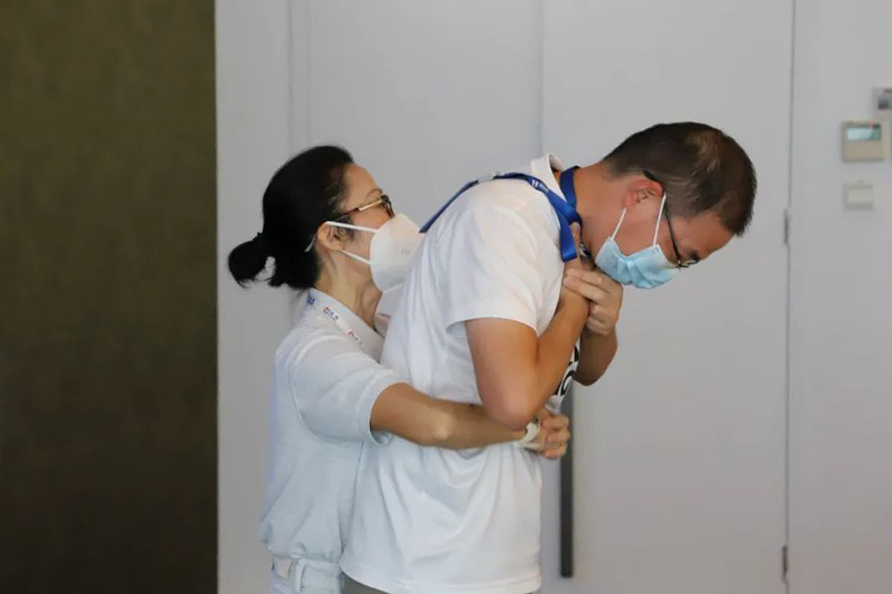 The trainer is demonstrating the correct procedure of the Heimlich Maneuver
They are learning how to stop bleeding and dress the wound
They are learning how to properly wear and remove protective gloves
In daily life, we can help the injured in an emergency or accident to win the golden rescue time if we master the relevant first aid knowledge acquired in the training activity. Therefore, it is very important to popularize the necessary first aid knowledge and skills! This training activity can help our staff improve the ability to deal with common accidental injuries and master the correct way of first aid, so that they can utilize the golden time for self-rescue and mutual rescue in case of emergency, allowing them to both better protect themselves and help others.